Market Series
SUNDAY ~ May 21st, June 4th, June 18th, July 2nd
Sunday @ Noon
The Hoosier Market Goat Series is comprised of four Sunday shows including Showmanship, Dairy Wethers, Meat Wethers, Wether Dams and Commercial Does. Youth, 21 and under, are eligible to show, and earn points based on Showmanship placings at the series events.
Judges:
May 21st – Hayden Deno

June 4th – Keaton Woods

June 18th TBD

July 2nd – Tim Hubbard
Arrival and Check-in.
Animals may arrive Sunday beginning at 10am. No Pens. Dairy Wethers starting at NOON.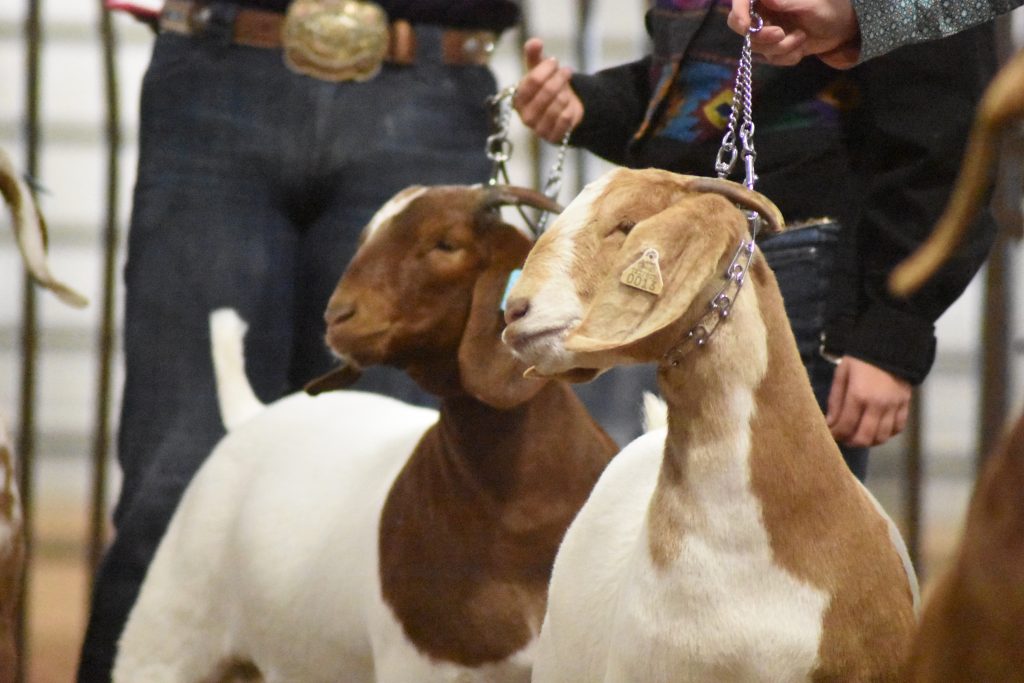 Phase 5 Hoosier Market Goat Series 2023
Hendricks County Fairgrounds Danville, IN
Entries and payment must be completed ONLINE at phase5goatshow.com. 
Market goat entry is $30.  
Showmanship entry is $10.
No Refunds unless the show is cancelled.
Show Order:
Dairy Wethers starting at Noon
Showmanship (beginning with PeeWee)
Meat Wethers
Wether Dams
Commercial Does
Showmanship Series Details
Youth Showmanship  (grade as of January 1, 2023)
PeeWee (up to 2nd grade)
Junior (3rd – 5th grade)
Intermediate (6th – 8th grade)
Senior (9th grade up to age 21)
Showmanship Series points will be assigned as follows:
1st in class = 10 points                   
2nd in class = 8 points
3rd in class = 6 points                    
4th in class = 4 points
5th in class = 2 points      
6th and beyond = 1 point
1. The accumulated points of ALL shows will equal the total points for the series. Prizes for the top showman in each division will be awarded at the conclusion of the Showmanship Series. Tiebreaker: 1) higher number of series shows attended, 2) higher number of goats shown overall.
2. Exhibitors MUST show their own animal. Exhibitors can show a wether, wether dam, or commercial doe, but must show an animal that is registered as their animal on day of show.
Wether, Wether Dam, Dairy Wether and Commercial Doe classes will be set after check-in is complete. Number of classes dependent on entries. Declared weight will be used.
Overall Champion Dairy Wether, Wether Dam, and Commercial Doe $75
Overall Champion Meat Wether  $250
1. Youth must show their own animal unless there are 2 or more entered by the same youth in a particular class. This includes champion drives.
2. Goats must be healthy and free of visible signs of contagious diseases. Animals of questionable health may be excused.
3. All goats must comply with Indiana BOAH and Scrapie rules. Out of state goats must follow any rules for transport set by the state of Indiana.
4. All goats must be tagged or have some other permanent form of ID.
5. Wethers with remnants of testicular tissue will be ineligible.
6. Meat Wethers and Wether Dams shall be slick sheared to a uniform length not exceeding ¼-inch above the hocks and knees, excluding the face and tail switch.
7. Commercial Does may be fitted with no hair length requirement.
8. Meat Wethers, Dairy Wethers and Wether Dams must have all their milk teeth in place. Goats with missing teeth or permanent adult teeth coming in will be disqualified. (No refunds.)
9. Dairy Wethers shall be slick sheared to a uniform length not exceeding ¼-inch above the hocks and knees, excluding the face and tail switch.
10. Dairy Wethers must be from a recognized ADGA dairy goat breed. All dairy goat wethers must be 100% dairy goat blood. Anything other than 100% dairy will be shown in the Meat Wether division. Any animal which is in question of not being 100% dairy breeding will be reviewed by the Phase 5 committee. The Committee will designate if the animal will be shown as a Dairy Wether, or as a Meat Wether.
11. Phase 5 reserves the right to conduct weigh-backs of wethers, wether dams and commercial does. Animals gaining more than 7 lbs from entry weight will be disqualified and forfeit that show's premiums.
12. Phase 5 reserves the right to conduct random drug/tissue tests. The exhibitor of any goat found with illegal drug residue will be banned from the show series.
13. Fitting: Ethical fitting practices must be observed at all times. No artificial 'hair' allowed.
ANIMALS FAILING TO COMPLY WITH FITTING GUIDELINES WILL RESULT IN FORFEITURE OF ANY PRIZE MONEY 
Safety: Dogs must always be on a leash and are not allowed in barns or show arena. No smoking within 20 feet of the barns or show arena. No unethical treatment of animals will be allowed.
Exhibitors and their families are responsible for safety and care of their goats, and release Phase5 and any committee members from any and all responsibility for loss or damages or accidents.
Phase5 reserves the right to refuse any exhibitor entry and to ask any person whose behavior is deemed detrimental to leave immediately.
No pens.